Hi Community! The good news, wages continue to climb according to the US Bureau of Labor and Statistics. The bad news, we continue to see layoffs dominating headlines. If you are in recruiting and have been impacted we are thinking of you and here to support.
As always, we promise to keep it brief and interesting!

Recruiting
Labor Report
The U.S. Bureau of Labor Statistics measures labor market activity, working conditions, price changes, and productivity in the U.S. economy to support public and private decision making. On the first Friday of every month the Bureau publishes a report on jobs.
The U.S. added 263,000 jobs in September
Employment grew across the economy, but is leveling off in several sectors
Payrolls have increased by an average of 378,000 jobs a month. That's more than double the monthly average in 2019 when the unemployment rate was roughly the level it is now

University & Emerging Talent Recruiting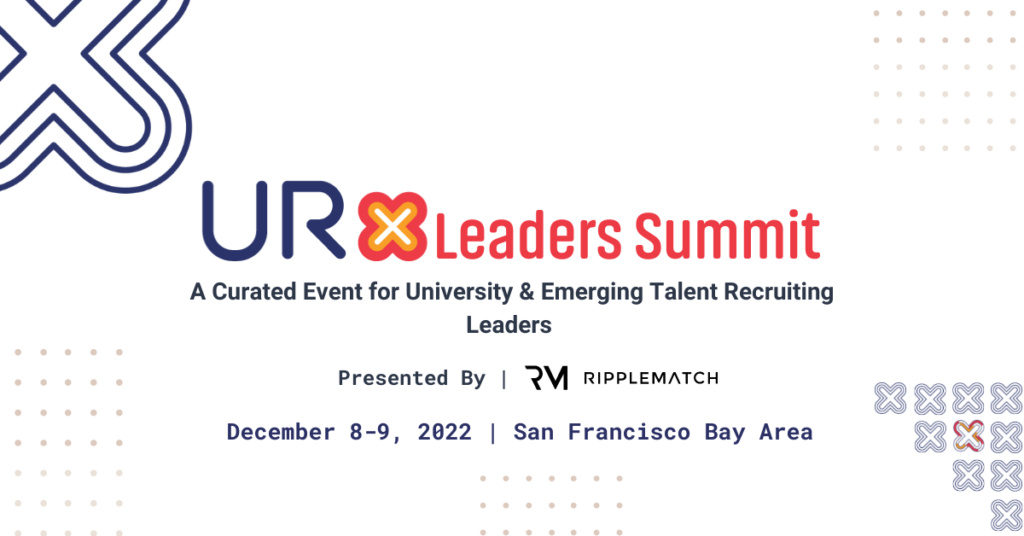 URx Leaders Summit is an exclusive event for members of the early talent recruiting ecosystem who lead University & Emerging Talent Recruiting teams. This year we will be at the beautiful Thomas Fogarty Wine & Vineyards in Woodside, CA, December 8 – 9. We bring this exclusively curated group together for thought leadership, peer to peer learning, and a well deserved recharge. Join leaders from Shopify, Duolingo, Zillow, Netflix, and more.  
University & Emerging Talent Recruiting
Win a free ticket to URx Leaders Summit 2022
Our Community Partner RippleMatch is offering complimentary tickets and prizes to the URx Leaders Summit, to University Recruiting leaders who book a demo of RippleMatch in October! 

– Sign up for a demo and claim your ticket here
UR Program Trends & Benchmarking
Q3 | 2022 URx Benchmarking Survey
The quarterly URx benchmarking survey captures timely insights and provides a report on data that you can use to benchmark your program.

As we wrap up Q3, we'd like to gather insights on your summer program learnings, all that's planned for fall on-campus recruiting and hiring for FY23!
Respondents will receive the full report and are automatically entered into our raffle to win an Amazon gift card! The deadline to complete the survey is Wednesday, October 19th.
– Take the Q3 URx Benchmarking Survey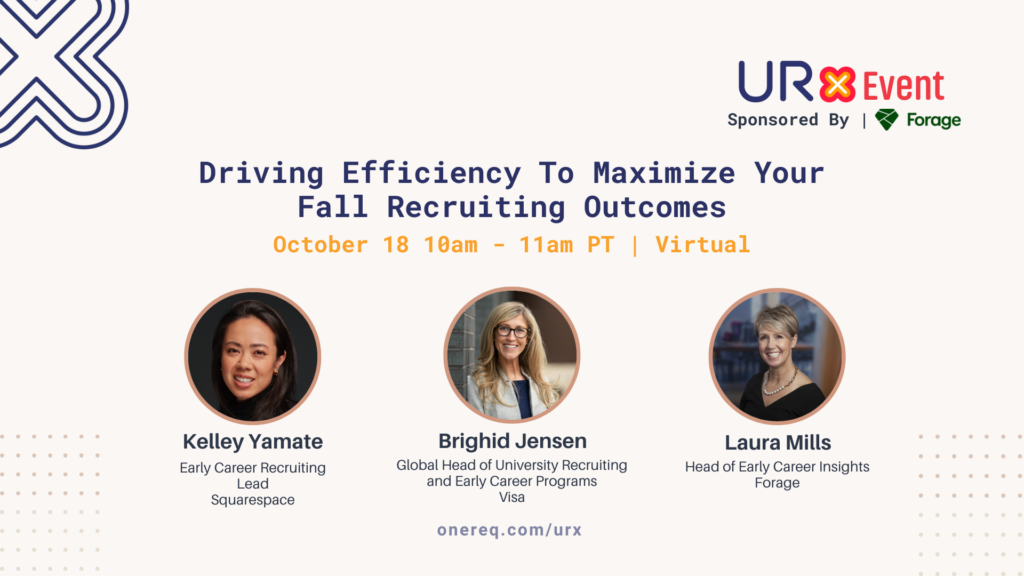 Driving Efficiency To Maximize Your Fall Recruiting Outcomes
October 18 at 10am PT
Join us for a presentation & panel discussion focused on making the most out of your fall recruiting season! UR leaders from Squarespace and Visa will be discussing the common challenges and pitfalls that lean early talent teams face during fall recruiting season and share a variety of tips & tricks to help those teams navigate the season more effectively. 

– Register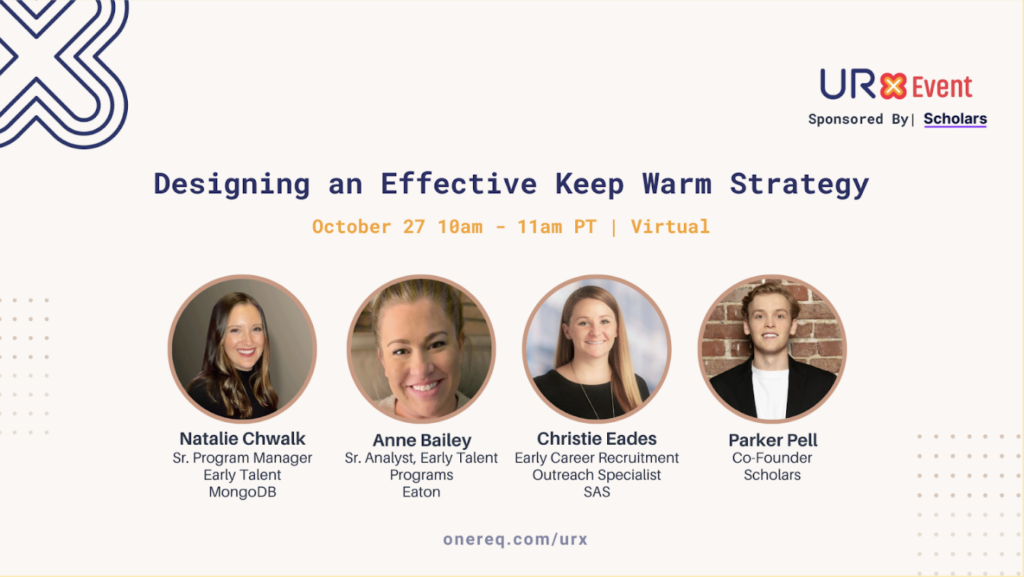 Designing an Effective Keep-Warm Strategy
October 27 at 10am PT, 12pm CT
Talent Acquisition experts have long known the value of developing relationships with candidates. As full-time offers trickle out, these relationships are put to the test – with months between offer and start date, ensuring a candidate continues to have a great experience means they will be less likely to renege. The challenge has always been figuring out how to enhance this experience, given time and resource constraints.
Join our discussion with three emerging talent recruiting leaders from Eaton, SAS, and MongoDB who will share best practices, learnings, and feedback around post-offer keep-warm strategies.

– Register

Community
Join a OneReq Community Circle
Circles are curated community experiences for our members to come together and build networks, benchmark, as well as engage in professional development. Community Circles are network amplifiers. Each community circle is made up of members who have the same role, interest, or affinity in recruiting. Community Circles revolve around ongoing peer to peer support, network building, and benchmarking. Community Circles meet monthly and have a dedicated private channel for participants in our Slack.
Join a Community Circle
– UR Managers
– Heads of UR
– Diversity Recruiting Leaders

What We're Reading
Prelude, an interview scheduling company, has been acquired by Calendly.
TopFunnel has rebranded as Teamable which they acquired earlier this year.
Workers are still quitting their jobs at rates above those seen before the pandemic, but layoffs remain near two-decade lows according to Indeed Hiring Lab's US Labor Market Report.
Organizations are reexamining how they recruit, develop, and retain talent.  In this new market, companies need to make six changes to succeed if they want to attract and retain talent. This article from Harvard Business Review describes what those changes are and suggests how best to make them.
Layoffs suck and we hate when any recruiting team has to go through it. The folks at Growth By Design Talent published a great read on how to support your recruiting teams through it.

Partner Update
Scholars
The Scholars team looks forward to seeing you at our upcoming webinar  discussing keep warm strategies on October 27. For a sneak peek into the conversation, check out their latest blog post. 
Symba
Are you committed to paying your interns fair wages? Whether you're paying them $15+/hr now or are working on ensuring your interns get paid fairly, join us and orgs like Zendesk, Jobs for the Future (JFF), ROI DNA, and Veritas Technologies in signing the Paid Internships Pledge! Sign the Pledge.
Thanks to all of our Community Partners!
– Learn how they can support you in your recruiting efforts

---
Subscribe to our newsletter