Layne Austin is a university recruiter specializing in the MBA space. She is currently working at Netflix and is pursuing an MBA at UC Davis Graduate School of Management.

I've been a university recruiter in three different industries for the last 5 years, and regardless of company, industry or role, students want to see a glimpse of where they might be in the future if they join your company. If you can find representatives who students can identify with and be inspired by, your intern reqs will be filled in no time!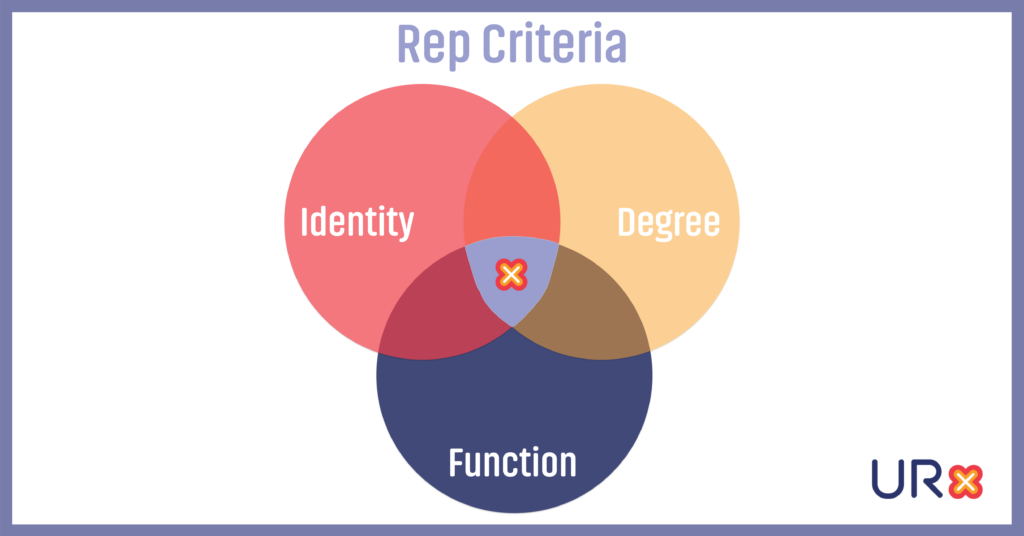 The Framework
I've developed this framework to help source and identify company reps for recruiting events. The dream is to find reps who sits like a happy little intern-whisperer in the middle of all three criteria. However, these unicorns can (and will!) be hard to find. I usually target reps who meet two of these criteria, and avoid bringing folks who only match one. Let's break this Venn Diagram down:


Identity
The first criteria is Identity, at the top left. This is the person who has walked in the shoes of candidate. If you are hosting an event at a particular school, this will be an alumni from that school. If you are hosting a diversity, equity and inclusion event, this will be a member of an Employee Resource or Affinity Group that identifies with the audience.


Degree
The next criteria to the right is Degree. Do you have a room full of computer science majors? Find a rep who has a computer science degree and is using their degree in their job. I personally am an MBA recruiter, and you better believe that everyone at my company with an MBA is on a curated list that I keep bookmarked and ready for the fall.


Function
The last criteria, on the bottom, is Function. If you are recruiting for internships in your finance department, bring along a few folks from various finance teams. Students want to understand a "day in the life," and who better to provide this perspective than someone who lives it.


One more thing
Now that you've gone through the framework and have a shortlist of colleagues that match at least two criteria, you're not finished yet. Be sure to consider overall representation diversity from your campus presence. Is your shortlist 3 colleagues who all fit "Degree" and "Function"? It's time to dig a little deeper and make sure your group as a whole represents a cross-section of identities. Even if you match all three, does your group represent a variety of genders, races, and orientations? Now more than ever, students are seeking companies who couple their words about social justice with action.

Now you're ready to hit the road, or the webex, and recruit an incredible class of interns! Good luck and happy sourcing!